Petrovac is the sort of dreamy summer destination one associates with trails of melted ice cream dotting the hot pavement and evening picnics.
Small town, surrounded by olive groves and pine forests and at the same time clear blue water, various pebble beaches that provide the opportunity for an unforgettable quiet, family vacation. It is located in a picturesque bay, only 17 km from hot spot Budva, 28km from Tivat, 38km from Podgorica and 20km from Bar.
Nothing feels quite as boundless as the seaside, and while most of the hot spots nearby has been hibernating, two favorite beaches have not only spruced up their celebrated attractions, but they've quietly crafted new reasons to visit. The main beach known as Petrovac beach,  800m long, and Lucice beach, 200m long , 500m southeast of the city center.  Approximately 700m west of the coast there are two islands, "Katic" and "Sveta Nedjelja", which are popular city attractions. In addition, northwest of Petrovac, there is a small marina and the castle "Kastio".
Petrovac is a city with a rich and interesting history. The first inhabitants were Romans in the 3rd century BC, as evidenced by the Roman mosaics for which the city is famous.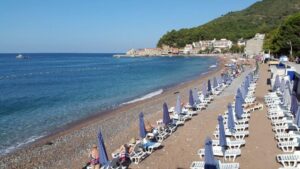 Petrovac Beach
The beach in Petrovac is about 600 meters located from the castle Castio and Lazareth in the west, to Cape Dubovica in the east. It is covered with reddish sand and as a city beach, attracts a large number of tourists every year. Right next to it there is a waterfront – a promenade with landscaped parks and an old settlement made of stone houses. The view from the beach towards the open sea is beautified by two islands – Katic and Sveta Nedjelja, which are several hundred meters away from it.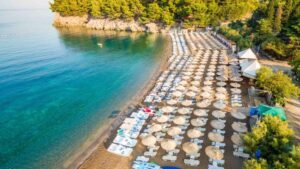 Lučice Beach
Lučice beach is located between the two capes, completely overgrown with dense coniferous forest of cypresses and pines, in a small bay, In time, it remained almost intact. The fine sand of golden yellow colour further prettify it. It is about 500 meters long, and 700 meters away from Petrovac. The view of the sea and the islands of Katic and Sveta Nedjelja makes the impression complete.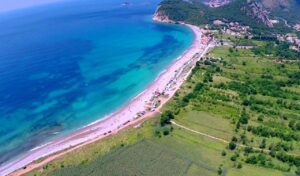 Buljarica Beach
Buljarica beach is 2300 meters long and composed of golden-yellow sand and white and gray pebbles. Along the beach there are several restaurants and cafes, and it is 2 km away from Petrovac. In its hinterland is the Buljarica field, which is a nature reserve.
Drobni pijesak – Fine Sand Beach
The "Fine Sand" beach stands out in beauty from the beaches that surround it, and it looks as it is not in the Mediterranean, but in a tropical region. It is about 200 meters long. It was named after the fine, hand-crushed white and yellow sand and small pebbles with which it is interspersed. The sand on the seabed, which goes deeper into the sea from the shore, gives a special green-blue colour of the water, different from other places on the Budva Riviera. On the beach there is a well of cold drinking water that flows into the sea.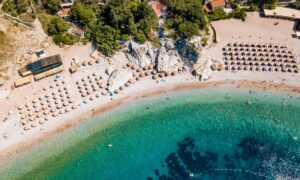 Beach Reževići
Rezevic beach was named after the nearby village of the same name. The beach is rocky and about 80 meters long. It has preserved an authentic ambience, surrounded by a refreshing forest. Right next to the beach, hidden in a Mediterranean forest, there is a restaurant that serves fresh fish and other seafood specialties. The pedestrian tunnel leading to Petrovac is 1.5 km long.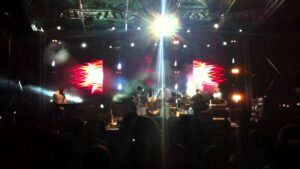 "Petrovacka noc"
"Petrovacka noc" is the largest traditional festival of fish and wine, with all-day entertainment and sport activities. Festival ends with the concerts of attractive music stars, as well as with spectacular fireworks. It is celebrated in the last week of August.
Pašticada fest 
Pasticada fest is an all-day event that promotes pasticada, a traditional coastal dish, and it is celebrated with music program and a program for children. Our goal is to promote our cuisine, as a very important part of the tourist offer of the Budva Riviera. It is held at the end of June.
Petrovac Jazz Fest
Petrovac Jazz Fest, starts at the end of August, and lasts for three days – from August 30th to September 2nd in Petrovac, Montenegro. NGO ,,Urban Cult,, is non-profitable, nongovernment organization which launched Petrovac Jazz Festival on Montenegrin coast. This Festival is important not only for Municipality of Budva, town Petrovac and Montenegrin coast, but for the state of Montenegro, which will influence international events through this festival. Performers of all kinds of jazz music shall, beside concerts, enable side programs like performances, workshops, expositions and other alternative programs, with lots of press conferences.
With this first Festival we found ourselves in calendar of festivals in the world and received recognized place by many other world festivals.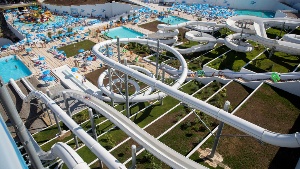 Aqua park
This unique water amusement park of this type on the Adriatic coast, has a daily capacity of 6,000 people. A variety of attractions and entertainment tailored to all generations and allows everyone to find something to enjoy during their stay at the Aquapark.
Parasailing – parachute flight behind a speedboat
Extreme sports, experiments, vacation, which is full of adrenaline – all this can be found on all organized beaches of Montenegro. One of the most interesting, popular and favorite pastimes of tourists on the Adriatic – parachute flights behind speedboats. Skydiving is an imagination from the childhood of almost everyone. Everyone wants to survive the flight, feel an incredible feeling of freedom and happiness.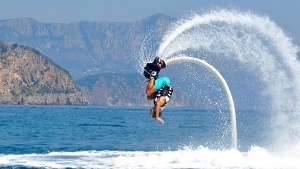 Flyboard
FlyBoard in Montenegro – it's a new form of extreme sports and recreation, which is a flight on a special board. Flyboard is a special plate, equipped with two tubes connected by an 18 meter hose together to the turbine water engine. Such a length of hose allows the rise above the water up to 10 meters.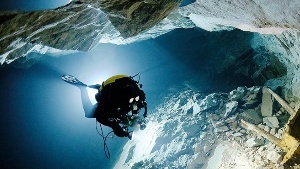 Diving
Diving in Montenegro will not leave anyone indifferent! At the bottom of the Adriatic Sea, you can find many interesting places, starting with natural caves with unique corals and ending with sunken warships and planes, which, as they say, have treasure in their dilapidated walls.
experience your dreams...