Ako ste raspoloženi za bjekstvo od svakodnevne rutine obala pruža posebno atraktivan mamac za ljubitelje plaže, večernjih šetnji i noćnog života. Mjesto koje je neophodno posjetiti, Budva, poznato je po zlatnom pijesku, savršenim uslovima za jedrenje i opuštenoj atmosferi, i naravno po jednoj od najpopularnijih crnogorskih plaža, Slovenskoj plaži. Zaštitni znak opštine Budva predstavlja kombinaciju raznolikosti i kontrasta na jednom mjestu.
Zbog svog povoljnog geografskog položaja, Budva je jedan od najstarijih gradova na Jadranu (star 2500 godina), i samim tim predstavlja žarište crnogorskog turizma.
Unutar venecijanskih zidina iz 15. vijeka, nalazi se Stari grad Budva. Posjetioci vole da istraže i drugu stranu ovog divnog grada, koja se ne odnosi na zabavu, već́ na istorijsko nasleđe, legende, zanimljive priče koje čekaju da budu ispričane. Ljubav je glavna spona između legende o porijeklu grada i onoga što grad predstavlja danas. Ljubavna priča o Kadmu i Harmoniji je počela na ovom mjestu, koje su kasnije simbolično nazvali Budva.
Ovaj ušuškani grad će vas prigrliti toliko toplo da se nikada nećete osjećati kao turista, iako će ulice biti preplavljene njima.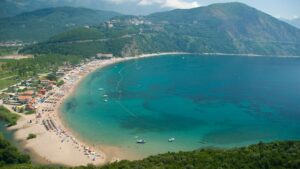 Jaz
Jaz beach is about 2.5 kilometers away from Budva in the direction of Kotor and Tivat. It has two parts, one about 800 meters long and the other one, about 400 meters long. The total beach area equals 22500 m2. Tourists from Montenegro adore this pebble – sandy beach, surrounded by untouched nature. All true nature lovers, should not miss the opportunity to stay in the auto – camp, which is extremely popular here.
The world's leading travel guide, Lonely Planet named Jaz beach, as the best European beach in 2015.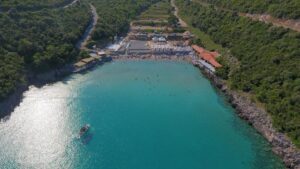 Trsteno
Uvala Trsteno predstavlja jednu od najljepših plaža u okolini Budve i spada među najljepše plaže crnogorskog primorja. Duboko je uvučena u kopno i tako zaštićena od velikih talasa, bure i juga.
Skrovita obala duga 200m prekrivena finim pijeskom, bistra i azurna voda, pjeskovito morsko dno, ljudskom rukom netaknuta okolina, samo je dio onog što vas na plaži Trsteno očekuje. U blizini se nalaze plaže Jaz i Ploče.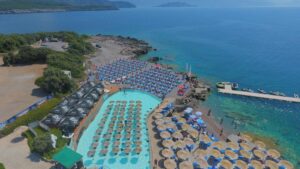 Ploče
Plaža Ploče je 6 km udaljena od centra Budve u pravcu Tivta. Nalazi se blizu plaža Trsteno i Jaz. Teritorija plaže predstavlja terene nadograđene po nivoima sa mjestima za ležaljke i stepenicima za silazak u vodu. Veliki djelovi plaže prekriveni su šljunkom radi lakšeg ulaska u vodu. Šljunak čini da boja morske vode dođe do izražaja. Plaža odgovara mladima za odmor ili dnevni provod, ali i porodicama sa djecom, zahvaljujući različitim zonama.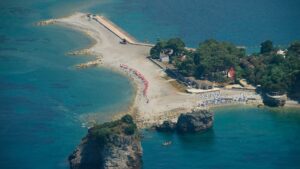 Sveti Nikola | Hawaii
Hawaii je šljunkovito-pjeskovita plaža na ostrvu Sveti Nikola, udaljena 1km od Budve. Ukupna dužina plaže je veća od 800 metara i sastoji se od 3 plaže različite po granulaciji pijeska. Do nje se može doći samo barkom, jahtom ili katamaranima sa Slovenske plaže, Mogrena i Bečića.
Ako ste u potrazi za privatnošću, možete pronaći mjesta uz stjenovitu obalu, koja su veoma uvučena. Ostrvo je prekriveno gustom šumom i na njoj se nalaze zečevi, fazani i jeleni. Na ostrvu postoje kafići, barovi, kao i riblji restoran koji je veoma popularan, i u kojem služe svježe ulovljenu ribu. Vodenu površinu uz ostrvo najviše vole ljubitelji paraglajdinga, skijanja na vodi i ostalih sportskih aktivnosti.
Richard's head Beach
This pebble beach is very popular and is one of the most visited in Budva. It is about 100 m long, and it was named after the actor Richard Vidmark, who shot the film "Long Ships" on this beach, in 1963. What makes "Richard's head" special is the location of the beach because it is located in front of the walls of the Old Town of Budva.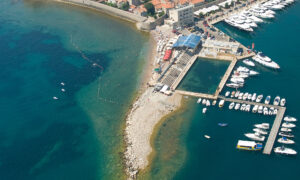 Pizana 
Pizana beach is another "city beach", about 100 meters long. It is located below the north-eastern city tower Repeno. One of the best café restaurants in Budva, is located near this beach, which offers services on the beach due to it has become one of the most exclusive and favourite on the Riviera. Just a few steps away from this beach is an outdoor city pool.
Slovenska Plaža
Slovenska plaža je najpopularnija plaža u Budvi, dužine 1640 metara. Proteže se od gradske marine do poluostrva Zavala, gotovo cijelom dužinom primorskog pojasa grada Budve i dominira budvanskim pejzažom. Duž plaže je šetalište na kojem se nalaze kafići, restorani, prodavnice suvenira, diskoteke i zabava za djecu.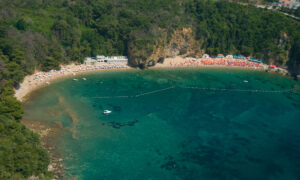 Mogren
Mogren beach is located behind the old town of Budva and consists of two fine pebble beaches connected by a tunnel. A narrow path that starts from the Old Town and passes under the Avala Hotel can take you to the 350 meter long beach. On the way to the beach you will have a beautiful view of the Old Town and the island of St. Nicholas as a monument to a girl-ballerina. On one side are stacked rocks, and on the other – a cliff, on which sea waves break in a winter time.
Dva dijela plaže, svojim položajem, kvalitetom pijeska i čistim morskom vodom učiniće vam odlazak na plažu nezaboravnim doživljajem.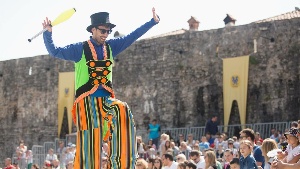 Budvanski Karneval
Budvanski karneval je bogata manifestacija sa nizom svečanosti i priredbi nalik kotorskim feštama. Odražava se u toku maja mjeseca u Budvi.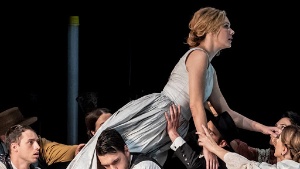 Grad Teatar
Budva je poznata po kulturnoj manifestaciji Grad teatar, koji je sinonim za pozorišni život crnogorskog primorja tokom ljeta. Grad teatar traje već 20 godina, obično počinje u julu a završava se sredinom avgusta. Osim pozorišta moguće je upoznati i lokalno muzičko i likovno stvaralaštvo.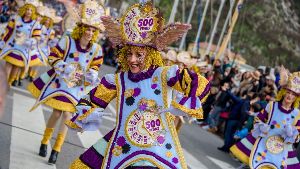 Bokeška noć

Bokeljska noć, ili izvorno Bokeška noć, je tradicionalna svečanost koja se održava u Kotoru svake godine, u drugoj polovini avgusta. Ova jedinstvena manifestacija, svojstvena maskenbalu, predstavlja tradiciju i moderno pristupanje organizovanju manifestacija na moru.
The aim of this event is to maintain the tradition of depicting coastal life. Also, the event has a competitive character, and the most beautiful and creative "masks" are being chosen at the final parade. The town of Kotor is only 18 kilometers away from Budva.
Dan Širuna
Jedna od najstarijih budvanskih manifestacija, fešta od ribe, vina i zabave jeste Dan Širuna. Održava se svake godine početkom oktobra, ispred zidina Starog grada.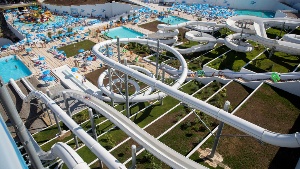 Aqua park
Akva-park u Budvi nudi posjetiocima moderne, vodene atrakcije za odrasle i djecu, restoran i kafe. Na teritoriji akva-parka se nalazi vodeno igralište za djecu do 10 godina sa prevrtanjem velike kante sa vodom i toboganima. Takođe, postoji i bazen sa talasima.
Ovaj jedinstveni park zabave na vodi, ima dnevni kapacitet od 6,000 ljudi. Raznovrsne atrakcije i zabave prilagođene su svim generacijama i omogućavaju svima da pronađu nešto u čemu će uživati u toku boravka u Akva-parku. Aktivna zabava i voda vrlo brzo izazivaju apetit. Odrasli i djeca će u našim restoranima naći svoja omiljena jela: salate, pizze, sladolede ili kolače.
Parasailing – parachute flight behind a speedboat
Those who are not interested to spend time only on the beach can find other active entertainment. Extreme sports, experiments, vacation  full of adrenaline – all this can be found on all organized beaches of Montenegro. One of the most interesting, popular and favorite sports for tourists on the Adriatic is parachute flights behind speedboats.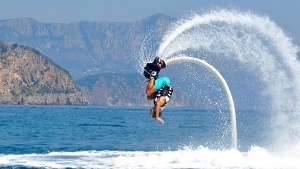 Flyboard
FlyBoard u Crnoj Gori je novi oblik ekstremnog sporta i rekreacije. Flyboard predstavlja posebnu ploču, opremljenu sa dvije cijevi povezane sa 18 metara dugim crijevom na turbine motora na vodi. Takva dužina crijeva omogućuje uspon nad vodom do 10-ak metara.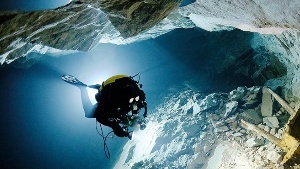 Ronjenje
Ronjenje u Crnoj Gori neće ostaviti nikoga ravnodušnim! Na dnu Jadranskog mora možete pronaći mnogo zanimljivih mjesta, počev od prirodnih pećina sa jedinstvenim koralima i potopljenim ratnim brodovima i avionima, koji, kako kažu, imaju u svojim oronulim zidovima blago.